Home Heating Oil Delivery from Glow Oil

Automatic Home Heating Oil Delivery from Glow Oil
Get the same COD price with automatic delivery!


Qualified applicants will receive the convenience of Automatic Delivery with the benefits of extended terms. We ask that you fill out the free confidential credit application so that we can begin to make stressful oil service disruptions a thing of the past!

Being a Cash on Delivery (COD) company we have one of the lowest prices on heating oil in Central Mass and Rhode Island. Wouldn't it be nice to not have to monitor your tank level or coordinate an oil delivery and still receive the same low rate?

With automatic deliveries we will always keep fuel in your tank, keeping you comfortable and warm all winter long at the same great rate. We learn how you burn your fuel during the winter and schedule your deliveries accordingly to meet your household's heating needs.
Protect your furnace or boiler with a service plan when you sign up for automatic delivery.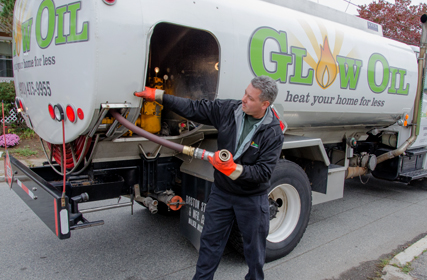 Home Heating Oil Information for New Customers
Looking to make the switch to Glow Oil? There are some things we'd like you to know about becoming a COD customer of Glow Oil.

First, we accept payment in the form of Cash or Money Order on delivery, or credit/debit card payment at the time we schedule your delivery.

All of our customers can schedule a delivery either by calling 401-475-9955 or by ordering online. Ordering online does require you have an account setup with us. Please allow 1-2 business days to process online delivery requests.

Next we will have to schedule a tank inspection, before a delivery is made we come to look at the tank. We check to make sure that the tank is safe and up to state code, if the tank is corroded or has other structural damage then we will not be able to deliver fuel until the tank is repaired or replaced.

We also require a working whistle or "vent alarm", without this important safety feature you are at risk for potential fuel releases that may damage your property.

Feel comfortable and confident when choosing Glow Oil as your heating provider. We have the proper staff and fleet available to meet your needs anytime. When the zero degree days appear never fear, we will be there to make sure your account is serviced promptly.