Contact Glow Oil for Home Heating Oil Delivery
Send Us An Email
To learn more about Glow Oil and our home heating oil delivery service, feel free to call 401-475-9955 or toll free 877-475-FUEL. If you would like to send an email, please use our contact us form below. Please try to be as detailed as possible so we can provide you with the proper information when replying. All required fields are marked with an asterisk (*).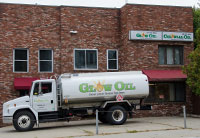 Glow Oil
Heat Your Home for Less


Mailing Address:
PO Box 40310
Providence, RI 02904


Contact:
Toll Free 877-475-FUEL
Local 401-475-9955
Fax 401-453-0489


Office Hours:
Monday thru Friday
8:00AM to 4:30PM

Any after hour call will be taken by our answering service and returned the next business day.

Our answering service DOES NOT place any fuel order requests, however please feel free to place orders on our website.